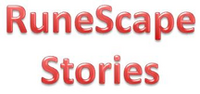 New pages
Welcome to the RuneScape Stories Wiki
RuneScape Stories is a collaborative website about funny stories from RuneScape that anyone can edit!
---
Please note that this wiki is not a place where you can use a blog about RuneScape, or anything else. Only create story articles for humorous or exceptional things that happen to you or you witness. Please see RuneScape Stories Wiki:About for more information.
News
8th August 2009: Wiki is created by Shoby4.
One day, while mining in the Scorpion Pit Mining Pit, I spotted a bunch of level 3s, 4s and 5s standing a bit outside the mining pit. They were arguing about something and whether or not "it was against the rules". I found out what they were talking about, and they actually talking about whether they should all gang up on one scorpion and kill it. Click here to read more!
---
RuneScape is copyright 1999-2011 Jagex Ltd. RuneScape Stories Wiki is in no way affiliated with Jagex Ltd. For more information, please see here: RuneScape Stories Wiki:About.